Program
HELPSNACKZ
Champion
Homeless Engagement Lift Partnership is helping fill hunger gaps with daily afternoon nutritional snack bags called Helpsnackz! event. People like you make all the difference in the world, by making this a reality. Please help send a positive and uplifting message, by writing and decorating the Helpsnackz Bags.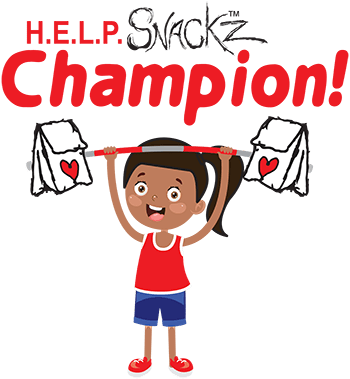 But we can't do it alone. We need your help!
Be A HELPSnackz Champion by Hosting an event, people like you make all of this a reality by helping us write and decorate these bags! We encourage you to invite friends, family, groups, neighborhoods, businesses, and organizations to get involved.
HELPSNACKZ are more than just a snack. They have a positive impact on the lives of these children.
Through hosting a HelpSnackz Champion event, you will be impacting so many lives by…
Making a positive difference in children's lives with decorated positive affirmations made with LOVE.
Bringing people together to give back to the community with their volunteer time with friends, family and meeting new people too.
Helping the At-Risk Children in our community.
Sharing current H.E.L.P. Projects and volunteer opportunities.
Follow These Simple Steps To Ensure A Successful Party:
First… Register by filling out the Register form.
Buy some Duro #4 Bags (White or Brown). Sam's and Costco are the best for price.
Next, choose a date and Invite, Invite, Invite!
Then, have your guests decorate Helpsnackz Bags with powerful, uplifting sayings and your own beautiful artwork. Remember to HAVE FUN! You can use (markers, stickers, etc.) to design the
bags. Attach the recommended sayings as well as some examples/ideas for the bags.
After that, rubber band the completed packs in groups of 40.
Following the event, fill out your Drop Off Form and deliver your completed bags listed below. To arrange other drop off times email

[email protected]

(H.E.L.P. Warehouse)
727 W Sweetwater Ave
Phoenix, AZ 85029
Tues and Thurs from 9:30 am to 12:00 pm

OR

UPS Store (mention that you are dropping off for)
Homeless Engagement Lift Partnership
610 E Bell #2-555
Phoenix, AZ 85022
Mon-Sat from 9am to 5pm

Lastly, please fill out the attached H.E.L.P.Bagz Host form below and return it with your completed bags.
Be A HELPsnackz Champion!