H.E.L.P.
Changing the Cycle of Homelessness
Our Mission is to change the cycle of homelessness through our children, provide immediate aid and comfort, promote awareness, and advance education for those who have found themselves in some form of homelessness. 
Our Vision is to help restore dignity and hope to those who are homeless in our community. 
Learn More
H.E.L.P.Snackz each month
Individuals
Individual volunteers are essential to our cause. Ultimately, we need your time and talents. There are so many opportunities to volunteer your time to serve others in need.
Please reach out to us if you have a talent or skill and would like to share your talent & skills to help support families and children experiencing hunger or homelessness.
For Individuals
Businesses / Organizations
Businesses and organizations play a vital role in our community by supporting families and children that are experiencing homelessness across Maricopa County.
Whether you're a group of 2 or 2000, we have opportunities to get involved.
Businesses/Organizations
Programs
Here are some programs Homeless Engagement Lift Partnership (H.E.L.P.) provides in the community.
These programs continue throughout the year and many volunteer opportunities are available. Whether your an individual or a group, we have a program you can directly make a difference in individuals and/or family's lives. Please assist us in the mission to change the cycle of homelessness.
Testimonials
Over the past few years, the Homeless Engagement Lift Partnership has worked with many volunteers and has helped many families and children within our community overcome food scarcity and homelessness. Over time, H.E.L.P has received many testimonials from those we've served and those who have served as volunteers. Check out our local community members' experience with the Homeless Engagement Lift Partnership and why they support our mission.
Family# 69
This message is for the family that adopted me and my children. I just want to say thank you from the bottom of my heart. You'll never know what that did for me and the children, especially the children. This year has been a trying year for us. God bless you and thank you guys all very very much for all you guys have done for me in the kids!
Anonymous
Family# 64
Dear Generous family,
Thank you so much for making Christmas for my family special. Elijah put his Fortnight outfit right on as soon as he opened it and my daughter was so happy with her doll. Thank you for everything you have done. My Pan, pillow, and my bedspread are being used everyday. I didn't even know how to write this letter because I am just beyond grateful and I hope that by next year I can pay it forward and bless someone's family like you have blessed mine.
Anonymous
Family# 56
Thank you so much for choosing to adopt our family for Christmas this year! The children were all so happy with their gifts! I enjoyed my gifts as well. I could smell the candles before I opened them! I just fell in love with them! We were all so happy this Christmas! I truly appreciate everything you did for my family. It's wonderful to know that there are people out there who are willing to help a family in need. I can't thank you enough! May you and your family be blessed in abundance in this new year! Many Blessings!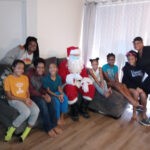 Chrissy H
Mom And Her Boys On The Streets
Anonymous
Hello and Happy New Year to you and your family. Thank you for everything. We loved our gifts everything was perfect. Such a BIG blessing to our family. Truly blessed. My daughters say thank you from the bottom of their hearts and Michael loves his jacket it matches his new fishing pole. Thank you once again. Blessed 🙏🙏 😇😇
Anonymous
Anonymous
Hello. Thank you a million times for the wonderful gift of Hope and adopted my family for Christmas.
My 9-year-old son who is artistic cried with gratitude ..he was going through a lot with us being displaced at the moment. Seeing Santa and the gifts gave him so much joy.
We will never forget the kindness and having my son witnessing the kindness of others. So once again thank you from the bottom of my heart ..Blessing upon blessing to yall.
Anonymous
Angel Sandoval
"I and my team at Primary Power Electric was looking for an impactful way to give back to the community using what time, talent and treasures we could offer.We chose to partner with the people and support the mission of the HelpSnackz program by becoming an Elite Member. HelpSnackz does an incredible job of caring for those who need help caring for themselves and their families"
Angel Sandoval
Elite Members video testimonial Steven Harris
Kerry M. Jaccard
Here's a sweet little story for you…
About three weeks ago, I called down a student to the Counseling office where we hand out the snacks. When I tried to give him his snacks, he graciously declined them and said that he and his family's situation had improved. He said, I would like my snacks to go to another needy student. When I told him that we had plenty for other kids, he said that there are so many other kids that need them more than him right now. He thanked me many times for the snacks we had provided in previous weeks and encouraged me to find students more needy than himself. The way he handled himself was so kind and generous. He wanted to pay it forward. You are making a difference with this program!
Thank you,
Kerry M. Jaccard
Deer Valley High School Counseling Secretary
Carrie Finch
Mirage Elementary is appreciative to receive snack bags for our students that are considered McKinney Vento. Our students are excited to see the message written on the bag and for the snack. They look forward to receiving their bag daily. It is a small gesture to make our kids feel special when at times it may feel bleak to them.
Thank you for supporting our school. We look forward to continuing our partnership with H.E.L.P. Snackz
Carrie Finch
Principal Secretary Mirage Elementary School
Cody Cherland
Thank you and HelpSnackz for everything you did for our students this year. The seven students that received snacks were very appreciative of the kindness, generosity, and dignity they felt from the snack bag this year. The snacks and messages that the students received were uplifting in a very difficult time in the 20-21 school year. Many of our students were from the same family and the gift was an excellent opportunity to connect and build relationships in school with our students. Thank you again for the support and we hope to work with you again next year.
Sincerely,
Cody Cherland
Dean Of Students, Country Place Leadership Academy
Elite Members video testimonial Rachael Drummond
Elite Member
"A&M Mechanical is honored to give back to our community,serving our homeless Veterans and Families as a H.E.L.P. Elite Member. Having a heart especially for those who have served our country, widows, elderly, and children, we are blessed to be able to provide assistance where needed. The HelpSnacks Program is an excellent way for us to provide care and nourishment to the less fortunate children in our community."
Amy McClure
Elite Member
Elite Member
"I am inspired by the engagement of Dawn Marie and Michael in the way that they have seen the vision and responded to it with passion, compassion,drive, enthusiasm, and hard work. Becoming an Elite Member allowed my business to become a part of something that is bigger than us through the opportunity to give back to a community that is in need."
"I am a strong advocate of education and building up our youth in our communities and nation. Providing support for HelpSnackz provides extra nourishment to the young people which in return provides them the energy to remain attentive in school and do the best job they can."
Elite Member
Pete Schnepp
"I was inspired to contribute to HELP because I saw the impact that Dawn Marie and her team were making on local kids in need. I never realized how many kids in our local community are struggling for basic necessities, and how few people were actually doing something about it. her team at HELP is really doing amazing things, and I love the fact that my contributions directly impact my local community. Another thing that resonated with me was that HELP's overhead cost was extremely low – I believe about 3%! Knowing that such a large amount of my contributions were going toward directly impacting the kids (opposed to some larger organizations), I felt confident in working with HELP now and for many years to come!"
Pete Schnepp
Elite Members video testimonial Ginny Davis
Marquita LaGarde
The resources provided by the H.E.L.P Snackz program have supported in meeting the gap of our homeless students and families by providing snacks when many of their needs have not been met. Our kids greatly appreciated them and looked forward to having some healthy snacks to leave school with. Thank you so much H.E.L.PSnackz program.
Marquita LaGarde
LCSW 6825T School Social Worker EDP ED/BD Program Heard Elementary School
How to Donate
Working Together...... We Make a Difference !
When it comes to homelessness in Arizona, we have a serious problem. There are about 29,000 homeless people in Arizona — one in every 227 Arizonians. In addition, an estimated 61% of them are in Maricopa County.
With a little extra effort, we can HELP reduce the number of homeless in our community. With the love of a servant's heart, Our Vision is to help restore dignity and hope to those in our community.
Our Mission is to change the cycle of homelessness through our children, provide immediate aid and comfort, and advance education and knowledge for those who have found themselves in some form of homelessness. 
Together we can make a difference!
Learn More
About
ARIZONA TAX CREDIT
More than 9,000 children in Arizona are homeless. Many factors can lead to this happening. As a result, many homeless families cannot afford to provide their children with adequate meals. Most children's only meals are through the school breakfast or lunch programs, and they have nothing to eat between noon and the following day. 
So when it comes to paying your taxes, you can designate it specifically to H.E.L.P. and support children and families in need in our community.